Regular price
Rs. 2,200.00
Regular price
Rs. 2,400.00
Sale price
Rs. 2,200.00
Unit price
per
Sale
Sold out
An amazing set of the English PreWriting Board and the Maths PreWriting Board at great price!
Pre Writing Boards can help toddlers from scribbles to script.
This book is a wonderful way to get your child practice the key strokes needed to start forming the letters, numbers.
Fine Motor Benefits of Pre-Writing Activities: Working on pre-writing skills (lines and strokes) in hands-on ways will naturally develop your child's fine motor skills and provide them with the well-rounded handwriting skills they need for letter formation, line orientation, spacing, and hand grasp.
Enjoy Learning
Tracing helps in strengthening finger grip and develops wrist agility. It also improves hand-eye co-ordination and concentration, language, fine motor skills.
FEATURES AND DETAILS
Each book has 8 writable pages.
Compact, flexible, lightweight, and perfect for travelling
Easily wipes away with a duster (included) for a quick cleanup
Wipe off with a damp cloth for a squeaky clean book.
Reusable and reduces paper waste.
How to Use?
Simply use any chalk and draw in the chalk book.
To clean, wipe away the chalk with a duster or wipe it
clean with a damp cloth. The Chalkboard Book is
compact and can be stored anywhere for portability.
INCLUDES
English and Maths Pre-writing board
1 box of colored chalks
1mini duster
1 chalk holder.
Product Dimension:
8 inch X 10 inch X 0.75 inch
SKILLS ACQUIRED
AGE GUIDANCE
2 Years and above
MATERIAL USED
Wood, Fabric
COUNTRY OF ORIGIN
India
View full details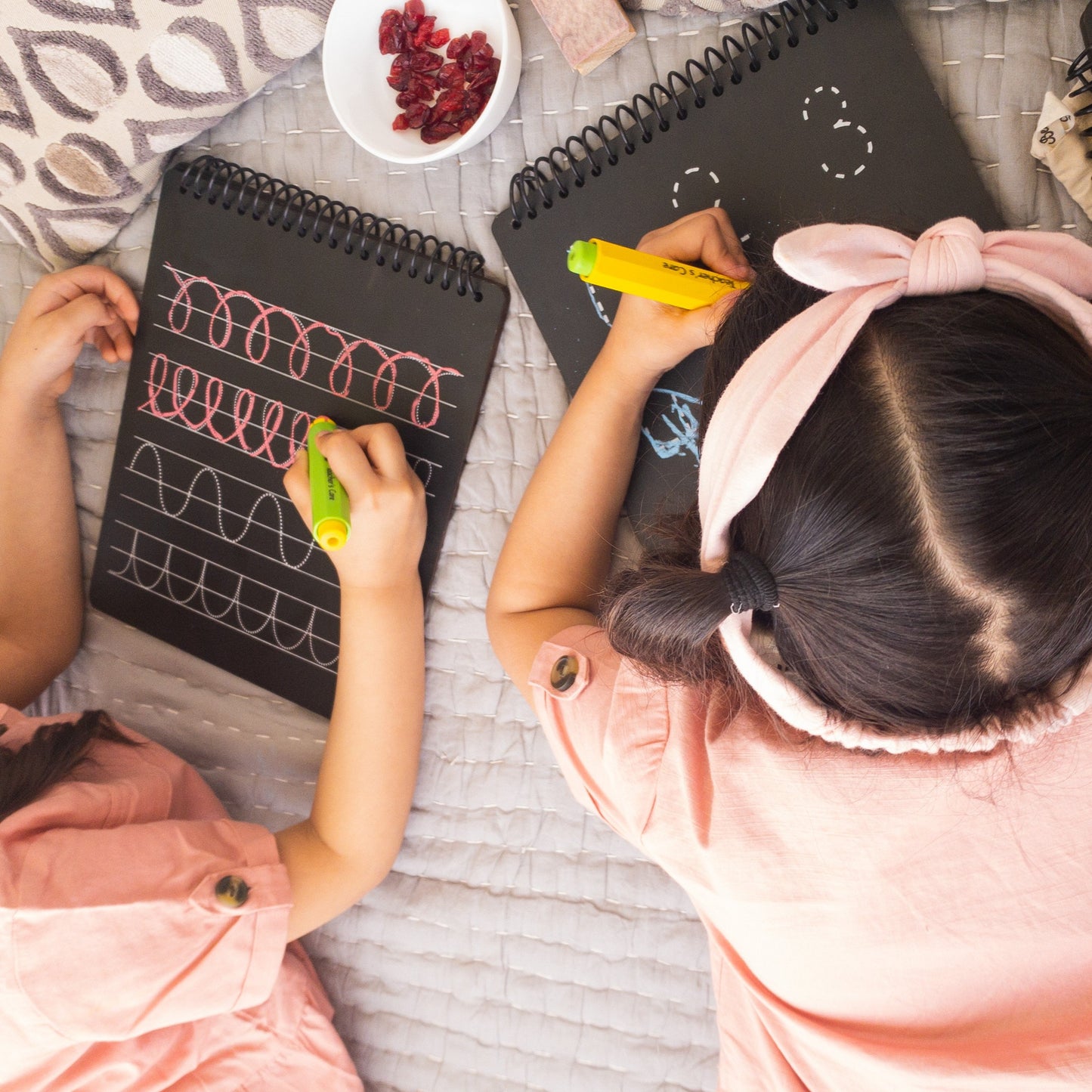 Great for pre-writers
Thoughtful and appropriate progression of skills.
Loved it!!
Packaged just arrived and my son is loving it already!! This is definitely a good book for toddler who are learning to write.
My Son loves it!
I purchase this for my four year old son to get him practice tracing and writing. He loves it so much that he would sit down for an hour or so to do his tracing and writing activity!
Just go buy it right now!
The pages are thick. My 3-year-old even works on them independently at the table while I make dinner. The book is worth the price and high quality. You won't regret just buying it.
Love this tracing book and would like to see more follow this style